Determining If You Have Mold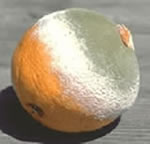 SPOILED FLORIDA ORANGE.
Common household molds have a characteristic "musty" or "earthy" smell, somewhat like the forest floor deep in the woods. Growing colonies of mold can also be visually observed in many cases. Most people are familiar with moldy bread or mold growth on cheese or other food products that have been kept too long, so the "green fuzzy" characteristic of most mold growth is familiar. And those who have lived in Florida have heard the expression "green shoe syndrome" which refers to the fact that mold is particularly fond of leather products left unused for periods of time in dark humid places.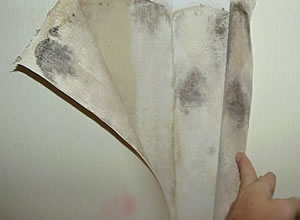 NOTE THE PINK "SPLOTCH" AT THE BOTTOM-CENTER OF THIS PHOTO. IT IS THE TELLTALE WARNING SIGN THAT THERE IS A LIKELY MOLD "BLOOM" BEHIND THE VINYL WALL COVERING.
Although most active mold colonies appear greenish to black (typical of mold growing on bathroom tile grout) in color, the characteristics of mold colonies growing behind vinyl wall covering in buildings takes on very different characteristics. These mold outbreaks typically result in pinkish to yellowish staining of the wall covering. They are quite important because they indicate serious, detrimental moisture accumulations within the gypsum wallboard behind the wall covering that can not be removed by your air conditioning or dehumidification systems. Where these problems appear, they usually require the assistance of a professional equipped with pressure measurement and other diagnostic equipment to determine the source(s) of the moisture causing the problem.